Back in 2007, 19-year-old Armie Hammer was readying himself to become a movie star. No matter that his roles, at that point, were limited to quick one-episode stints on Veronica Mars and Desperate Housewives, and a part as "Lead Prefect" in an adaptation of My Friend Flicka. Hammer already had the height, the side part, and the old-fashioned good looks that would lead directors to compare him to the likes of Gary Cooper.
He also comported himself the way people who have grown up with money often do: with confidence and charisma, or if you're being less generous, like a little bit of an asshole. Hammer had just been cast in George Miller's doomed DC Comics adaption Justice League: Mortal and was a perfect young Bruce Wayne, even if some in the press remained dubious. "Armie Hammer (his actual, SAG-registered name) will play Batman," the St. Petersburg Times reported. "We guess being 6-foot-5 and having a weird name makes you qualified to play the Dark Knight."
When the movie was called off, Hammer and the other stars — including Adam Brody as The Flash, DJ Cotrona as Superman, and Megan Gale as Wonder Woman — were already deep in pre-production training. Suddenly, their path to instant stardom was over. In the aftermath, the careers of those other would-be superheroes (save Common, slated to play Green Lantern, who had an established musical career of his own) failed to bear fruit; Brody, arguably the most famous at the time of casting, has all but disappeared from Hollywood. But not Hammer, whose career has evaded certain doom for nearly a decade.
He's gone on to star in failed Westerns, spy remakes, fantasies, and historical epics. His blockbusters flop; his prestige pictures fall flat. The Lone Ranger was one of Disney's greatest summer bombs of all time. Plans to make The Man from U.N.C.L.E. into a sprawling franchise disappeared. His attempt to redirect his career with The Birth of a Nation faded from Oscar favorite to a blip on the awards season radar.
Yet he and his publicity team have never given up trying to Make Armie Hammer Happen. This year, they are spinning out a publicity campaign around his role in the likely Oscar contender Call Me by Your Name that attempts to retroactively reinterpret his choices, his failures, and his career.
According to this logic, it's not that Hammer's a bad movie star. It's that movie stardom isn't for Hammer: He's too quirky to fit into the mainstream roles available to him, and so much more than the sum of his handsome parts. He might look, as Mirror Mirror director Tarsem Singh put it, like who you'd draw if you were going to draw a prince. But Singh also pinpointed his deeper appeal: "I'm not talking about a Disney Prince," he told Details. "There are undertones."
Yet for the bulk of Hammer's career, those undertones have been overlooked and overshadowed by the mainstream — and altogether unremarkable — Hollywood narrative around him.
There are fetish undertones, like his documented affection for BDSM and ropes. Gross undertones, like his obsession with talking about how many times he got ringworm as a child. Meme-able undertones, mostly from the adorable way he dances in a now-viral clip from Call Me by Your Name. Queer undertones, like the way he talks about "falling in love" with the film's director on set. Paired with his performance in an Oscar-bound film, these undertones, largely organically surfaced by the internet, have the potential to finally Make Armie Hammer Happen.
Or so the current narrative goes. But is Hammer truly a unique star who's finally finding his niche — or simply a beautiful, pedigreed white man who's been allowed, in a way that few others in Hollywood have, endless attempts to discover it?
Armie Hammer's first significant magazine appearance came in 2009, in a Vanity Fair spread of "Fortune's Children" — 38 heirs and heiresses, including Ivanka Trump and Jared Kushner, heralded as "the next generation of some of the world's greatest fortunes." Hammer's page is located in the back of the spread, after the Mortons and Bloombergs and Bloomingdales, and features a photo of him playing a guitar in a bathrobe, staring whimsically into the distance. His "Heritage" is listed as "Great-grandfather Dr. Armand Hammer, the controversial Occidental Petroleum tycoon." Under "Education," there's a quote from Hammer: "I tried college at UCLA. I gave it a fighting effort and I just couldn't do it." Under "Occupation": "Actor — currently appearing on Gossip Girl."
It's a tidy encapsulation of the foundation of Hammer's image as "rich asshole" — and he's spent the last decade both leaning into his pedigree while also straining to separate himself from it. Early in his career he was cast, repeatedly, as a version of this rich asshole: first in a three-episode arc of Gossip Girl, in which he cheats on his girlfriend with Serena (Blake Lively), then cheats on Serena with his girlfriend; then, most famously and definitively, as the Winklevoss twins in The Social Network. He was playing different genres of the same breed: that artfully tousled chestnut hair, that teenage ease in the suit jacket. "When Hammer-as-Winklevoss wears a robe, it's as if to say, This is how an asshole wears a robe," Details declared in 2011. "When Hammer-as-Winklevoss rips into a burger, it's as if to say, This is how an asshole eats meat."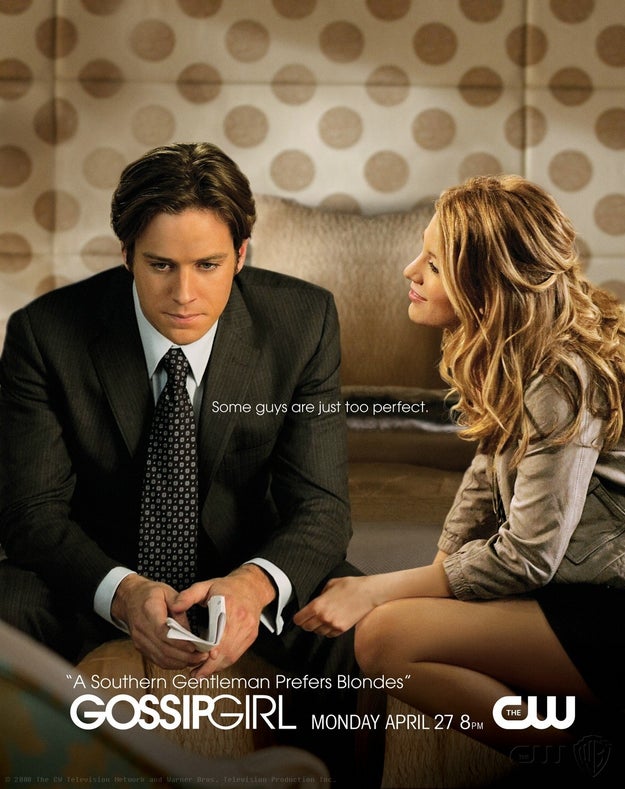 Hammer as Gabriel Edwards in Gossip Girl.
The CW
There had been other roles before Gossip Girl (Hammer played Reverend Billy Graham in Billy: The Early Years) but those didn't show up in the Vanity Fair spread or the dozens of profiles and interviews that popped up in the wake of his scene-stealing turn in The Social Network. Instead, interviewers revelled in the posh details of his youth: He was born Armand, after his 90-year-grandfather; he drove around in a "pedal car" at his grandfather's house; he lived in Dallas and, soon after, the Cayman Islands. ("My dad saw the movie The Firm and he thought it looked like paradise.") "I love art," Hammer told Details. "I used to have a painting of Gorbachev that was given to my family by Gorbachev."
In interviews, Hammer was very careful to undercut any suggestion of privilege. Every mention of the Cayman Islands — both then and in the years to come — is followed by one of Hammer's ringworm. "I swam and fished and had something to do in the water every day and rarely wore shoes, to the point of getting ringworm a couple of times," he told New York Magazine in 2001. "Isn't that disgusting?" He mentioned ringworm again to Details in 2011, to Town and Country in 2012, and to both Entertainment Weekly and Nylon Guys in 2013.
The Details profile — his first cover — even sought out secondary interviews to attest to how normal he was. "If you didn't know his name," Aaron Sorkin told the magazine, "you'd never guess Armie came from privilege — and I don't think he'd want you to guess it. He's a humble, hardworking actor, a friend who'd jump in front of a bus for you." Or, as Lily Collins, his costar in Mirror Mirror, explained to Entertainment Weekly, "You'd never know he came from such a prestigious family. He doesn't make that a part of who he is at all. It's really important to him that his last name isn't the thing that got him where he is."
Hammer had spent time in the bit-part trenches before getting cast as Batman and the Winklevoss twins. But the privilege that afforded him a path to stardom is neatly papered over with tales of a Hammer, back from the Caymans, out of touch and dicking around. He sold Playboys in the eighth grade, packaged with bottles of lotion, and stashed them in the bushes at school so he wouldn't get caught. He got kicked out of high school for setting lighter fluid on fire. His "two semesters" of UCLA were actually two semesters of signing up for UCLA Extension classes and never showing up. But Hammer was firm that he and his wife Elizabeth Chambers, formerly a journalist for E!, were never supported by his family money. "I support myself," he said. "My wife and I together, it's all our household. I'm really proud of that."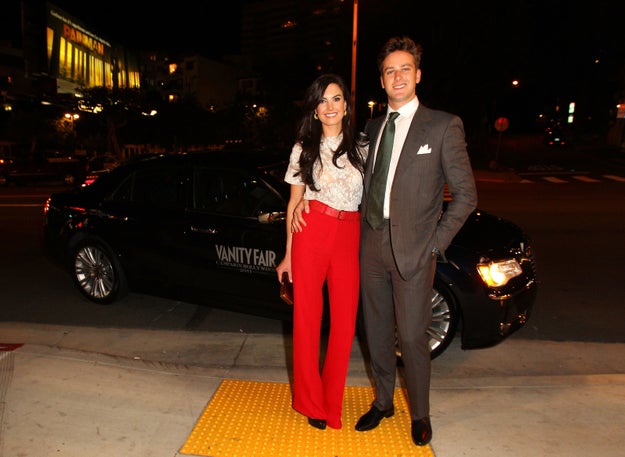 Hammer and wife, Elizabeth Chambers, in 2011.
Joe Scarnici / Getty Images
After The Social Network, Hammer found himself a hot property — and was almost immediately cast as Clyde Tolson opposite Leonardo DiCaprio in Clint Eastwood's 2011 J. Edgar Hoover biopic J. Edgar. "It's been an amazing year for me — it's exactly what I always wanted to happen," he told the Wall Street Journal. His character's relationship with Hoover is suggestively queer, and, very briefly, explicitly so — prompting Hammer's first man-on-man screen kiss. But Hammer deftly handled questions about the novelty or strangeness of the event. "It just felt like kissing," he said. "I also had to shoot a machine gun in the movie, but nobody asks about that."
Hammer's response is a far cry from the "no homo" caginess that often accompanies straight stars' commentary on playing queer roles — a posture he's maintained in the years since, leaning into the queer subtext of his relationship with Call Me by Your Name director Luca Guadagnino, much to the delight of fans. But back in 2011, press around J. Edgar was careful to note Hammer's heterosexuality — and masculinity. Chambers literally showed up halfway through his interview with New York Magazine. "Wife!" Hammer greeted her. "Best friend," she replied, before "falling into an embrace of kisses."
Chambers also showed up to the Details interview, and got called out while waiting in the wings of a 2010 appearance on the Today show. "Armie had one of the most beautiful weddings I've ever been to, when he married his gorgeous Elizabeth last May," Kathie Lee Gifford, a longtime friend of the family, said on air. "I mean, they are the Ken and Barbie of the world." Hammer went on to describe, down to the brand of the sweatshirt and the type of sandals, what Chambers was wearing the first day he met her. "Oh, that's love!" Gifford exclaimed.
Any threat of emasculation was counterbalanced with tales of Hammer's bachelor party. In one profile, his "eyes brightened" as he described this 10-day event, which he nicknamed his "ATF Weekend": "We spent a couple of days gathering brush, chopping down trees, building this huge thing, and soaking it with gasoline. We filled a giant tequila bottle with gasoline, too, and put it right on top of the pile. Then I stood back. A long way off. And I blew the thing up with a machine gun."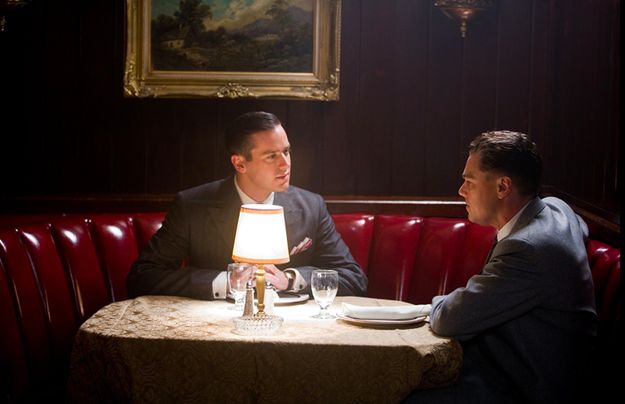 Hammer with Leonardo DiCaprio in J. Edgar.
Warner Bros.
Amidst all this manliness, Hammer was cast opposite Johnny Depp in Disney's long-germinating adaptation of the classic television series The Lone Ranger. Depp was the A-list star, but Ranger — with a budget of $215 million, released in prime summer blockbuster territory — seemed like it would finally be the film that launched Hammer into actual stardom.
Hammer's publicity machine went into overdrive. Nearly a year before the film's release, Hammer was on the cover of Esquire, heralded as a long-awaited return to real-man stardom. "Movie stars used to be big," the article inside proclaimed. "Cary Grant, Jimmy Stewart, John Wayne: redwoods among men, all of them, towering over audiences at twenty-four frames a second. Armie Hammer is big — he's six five and built like an Abercrombie greeter — and he's handsome in the high-Wasp way your grandmother would have considered 'movie-star handsome.'" Perfect, in other words, to play a role in a film whose racial politics (including the casting of Depp in "redface" as Tonto) dated back to the 1950s.
But those discussions, as well as the movie's massive belly flop, were months in the future. The current task was selling this guy to an audience who might not know him, or only know him as the Winklevoss twins. Thus a flurry of profiles in Elle (ladies), Town & Country (rich people), Cowboys & Indians (mild racists), Men's Health (jacked dudes), Playboy (regressive dudes), and Nylon Guys (hip dudes!).
The same points — hammering home his relatability, his quirkiness, his I'm-not-a-douche-ness — were reiterated and reinterpreted for those intended audiences. The writer in Elle noted that "there might not be another man whose physical description is so worthy of romance-novel cliches," but in reality, he is "a late, golden-retriever-like man-boy, who sees to be having some trouble fitting his long legs even in this oversize booth." In Town & Country, "he seems determined to not be pegged as an elitist, so he talks about friends who have Jeeps with no doors and Yosemite Sam mud flaps." In Playboy, he talks about being a "gun appreciator" and exploring his submissive side when it came to sex with his feminist wife.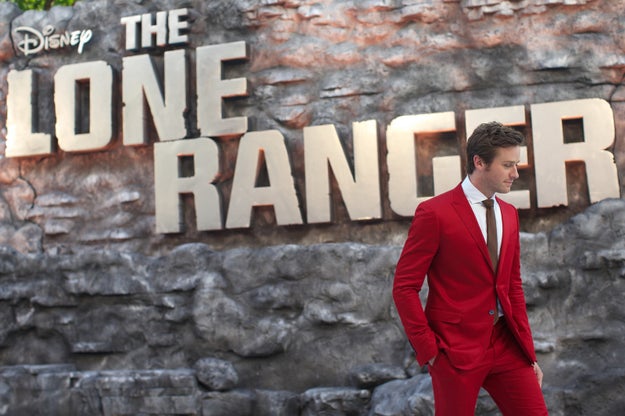 Hammer at the UK premiere of The Lone Ranger in 2013.
Afp / AFP / Getty Images
But no amount of cool bro-ification of Hammer could save Lone Ranger, whose failure felt foretold before the movie hit theaters. The immediate strategy was to blame critics and others in the industry who "doomed" the film by writing about its cost overages and an early shutdown. Depp declared that "the reviews were written when they heard Gore [Verbinski] and Jerry [Bruckheimer] and me were going to do The Lone Ranger"; Hammer added that critics had tried a similar strategy with World War Z, and then turned their attention to Ranger. "They decided to slit the jugular of our movie," he said. "They've been gunning for our movie since it was shut down for the first time. I think that's probably when most of the critics wrote their initial reviews."
But Hollywood would never give up on a guy that handsome, that tall, that white, with a jaw that square.