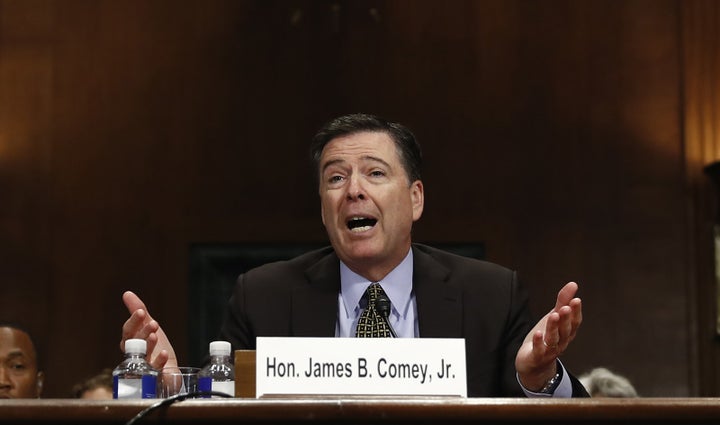 Carolyn Kaster / AP
President Trump suddenly fired FBI Director James Comey Tuesday, accepting a recommendation from top Justice Department officials who argued the bureau had suffered "substantial damage" under his tenure.
The unexpected move shocked bureau employees in Washington, DC. "Nobody saw this coming or had any warning this was coming down the chain today," an officer told BuzzFeed News. "We have no idea what is going on."
"It's chaotic here right now," the officer added.
With Comey's exit, FBI Deputy Director Andrew McCabe was expected to take the reins as acting director of the agency.
The stated reason Comey was fired, according to a Justice Department memo, was his handling of the investigation into Hillary Clinton's use of a private email server while she was secretary of state.
"I cannot defend the Director's handling of the conclusion of the investigation of Secretary Clinton's emails, and I do not understand his refusal to accept the nearly universal judgment that he was mistaken," Deputy Attorney General Rod Rosenstein wrote to Attorney General Jeff Sessions on Tuesday.
The memo reads in a seeming apolitical tone, recounting Comey's actions during the investigation — including holding his own news conference and not deferring to the nation's top law enforcement official and his boss, then-attorney general Loretta Lynch.
Hanging over everything, though, is the fact that Comey's FBI was investigating Russian interference in the 2016 presidential election and potential ties between Trump's campaign and Russia.
Senate Democrat leader Chuck Schumer at a press conference Tuesday asked whether the firing may have been linked to the ongoing investigations into Russian hacking and if there was any collusion Trump's campaign.
"We knew the FBI has been looking into whether the Trump campaign colluded with the Russians, a very serious offense," he said. "Were these investigations getting too close to home for the president?"
In his first public comment after abruptly firing his FBI director, Trump slammed Schumer's reaction and implied Comey's ousting was him "draining the swamp."
Trump's tweet, which he also sent from the official @POTUS account, was the first statement from the president on Comey's departure. Late Tuesday night, the White House announced that the president would meet with Russian Foreign Minister Sergey Lavrov the following day at the White House.
On Wednesday morning, Trump sent out another tweet, calling out the Democrats saying that they wanted Comey fired and that "Comey will be replaced by someone who will do a far better job."
Comey was appointed by then-president Barack Obama in 2013, and was set to serve out a 10-year term like other directors in the past.
The only other time an FBI chief was fired by a president was in 1993, when the director at the time, William S. Sessions, was fired by then-president Bill Clinton. Sessions had been found by an ethics watchdog to have used FBI aircraft to visit friends.
Sessions had refused to resign at the urging of Clinton, which prompted his firing in 1993. According to the Los Angeles Times, it was the first time an FBI director had been fired by a president.
Comey was set Thursday to testify before the Senate Intelligence Committee, which is also investigating Russian interference in the 2016 election. An aide to a Democrat on the committee said that would no longer be happening.
However, the aide added that it's "safe to say the committee will still want to hear from him." Comey could still testify as a former director, but it was not immediately clear whether he would.
Comey has, over the years, become mythologized as a larger-than-life figure who operates outside of politics. He rocketed into the public consciousness in 2004 when he raced to the hospital bedside of then-attorney general John Ashcroft to stop the reauthorization of a surveillance program and has made headlines since.
He was scheduled to appear at an event in Los Angeles Tuesday, when the White House announced he was fired.
Democrat Joe Manchin, who serves on the Senate Intelligence Committee, told CNN that he had just heard about Comey's firing, but added: "I will just tell you it's not going to impede our investigation." Spokespeople for the Senate Intelligence committee did not immediately respond to a request for comment.
The firing was announced suddenly by White House Press Secretary Sean Spicer, who released a short statement.
Today, President Donald J. Trump informed FBI Director James Comey that he has been terminated and removed from office. President Trump acted based on the clear recommendations of both Deputy Attorney General Rod Rosenstein and Attorney General Jeff Sessions.
"The FBI is one of our Nation's most cherished and respected institutions and today will mark a new beginning for our crown jewel of law enforcement," said President Trump.
A search for a new permanent FBI Director will begin immediately.
In the letter removing Comey from his post, President Trump said, "While I greatly appreciate you informing me, on three separate occasions, that I am not under investigation, I nevertheless concur with the judgement of the Department of Justice that you are not able to effectively lead the Bureau."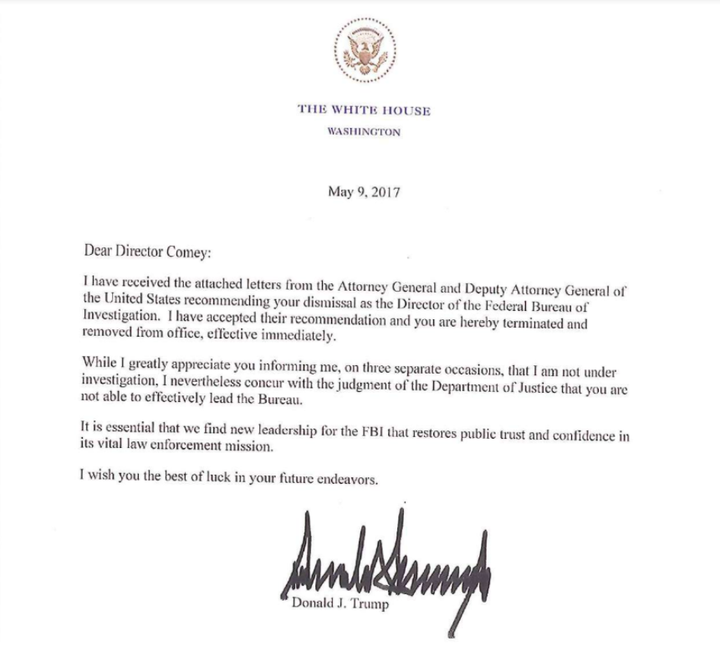 White House
Spicer, speaking Tuesday evening on Fox Business Channel, said the firing had not been planned for a long time, but was initiated by Deputy Attorney General Rod Rosenstein's review of the FBI.
Rosenstein was appointed to his current position two weeks ago.
The firing also comes on the same day that the FBI sent a letter to the Senate Judiciary Committee correcting testimony Comey made last week about emails that were forwarded by top Hillary Clinton aide Huma Abedin to a computer shared by Abedin and her husband, Anthony Weiner.
During his testimony May 3, Comey said Abedin "forwarded hundreds and thousands of emails, some of which contained classified information." The number, however, was much lower, according to a letter sent by the FBI to the committee Thursday, hours before Comey was fired.
The FBI's letter clarified that most of the emails found in the laptop were in fact the result of a "backup of personal electronic devices, with a small number a result of manual forwarding by Ms. Abedin to Mr. Weiner." The emails under review numbered about 49,000, the letter states. Only two were manually forwarded by Abedin.
Iowa Republican Sen. Chuck Grassley, the chair of the Senate Judiciary Committee, said, "The handling of the Clinton email investigation is a clear example of how Comey's decisions have called into question the trust and political independence of the FBI. In my efforts to get answers, the FBI, under Comey's leadership, has been slow or failed to provide information that Comey himself pledged to provide.
"The effectiveness of the FBI depends upon the public trust and confidence. Unfortunately, this has clearly been lost."
Comey's handling of the FBI's investigation into Clinton's emails had been previously praised by Trump just weeks before the election, when Comey had announced the reopening of the case to review the additional emails found in Abedin's home computer.
"It took a lot of guts," Trump said at a campaign rally then.
In an interview with CNN, White House Senior Adviser Kellyanne Conway dismissed the comments Trump made on the campaign trail praising Comey, even though Trump had repeatedly praised Comey for the same actions that were now being cited for his removal.
"I think we're looking at the wrong set of facts, you're going back to the campaign," Conway told CNN's Anderson Cooper Tuesday evening. "It has nothing to do with the campaign six months ago."
Pressed on the questions being raised by the President firing the FBI director while the agency is overseeing an investigation into possible collusion between his campaign and Russia, Conway said the two issues were unrelated.
"Today's action had zero to do with that," she said. "You want this to be about Russia when this is a story about restoring confidence in the FBI."
Spicer told reporters the president would be considering a new director immediately, but provided no names. One source close to House Republicans told BuzzFeed News that the only name he's heard so far is Mike Rogers, the former Michigan congressman and House Intelligence chairman. Rogers was a former FBI special agent before going into public office.
Rogers now leads an intelligence and global affairs firm, and is a regular commentator on CNN as a national security commentator.
Sen. Dianne Feinstein, who is part of the Senate Select Committee on Intelligence, said she was notified by President Trump at 5:30 p.m. that Comey would be fired.
"The next FBI director must be strong and independent and will receive a fair hearing in the Judiciary Committee," she said.
At the Pentagon, some officials were still trying to game out how it would impact the agency. "I need time to process this," one official said immediately after hearing the news.
Officials in other government offices reacted with similar shock at the news.
The State Department declined to comment on the firing, saying it does not comment on personnel issues related to other agencies, but one official told BuzzFeed News the development was troubling.
"Not much [to offer] from my point of view as a State Department employee," said the official. "From a citizen: Holy fuck."
Exactly what the reason was for Comey's firing remained unclear as Washington reeled from the news.
"A fresh start is needed at the the leadership of the FBI," Sessions said in a letter addressed to President Trump. "The Director of the FBI must be someone who follows faithfully the rules and principles of the Department of Justice and who sets the right example for our law enforcement officials and others in the department."
Rosenstein, in the three-page memorandum, said he could not defend Comey's decision to hold a press conference in July to announce the FBI was closing its probe into Clinton's use of a private email server, and that Comey was recommending to then-attorney general Loretta Lynch that Clinton not face criminal charges.
"The Director was wrong to usurp the Attorney General's authority," Rosenstein wrote. "It's not the function of the Director to make such an announcement."
Rosenstein, who was confirmed as the deputy attorney general in April after spending the bulk of his career as a federal prosecutor, also chastised Comey for releasing "derogatory information" about Clinton when he announced the end of the investigation, saying it was "a textbook example of what federal prosecutors and agents are taught not to do."
Sessions attached Rosenstein's memo to a letter he sent Trump on Tuesday recommending Comey be fired.
"Based on my evaluation, and for the reasons expressed by the Deputy Attorney General in the attached memorandum, I have concluded that a fresh start is needed at the leadership of the FBI," Sessions wrote.
BuzzFeed News reporter Henry Gomez contributed to this report.
LINK: 4 Things To Watch Now That President Trump Has Fired James Comey
LINK: Two Republicans Are Calling For Independent Investigations Into Russia After Trump Fired The FBI Director
LINK: James Comey Says He Feels "Mildly Nauseous" That The FBI May Have Impacted The Election
Outside Your Bubble is a BuzzFeed News effort to bring you a diversity of thought and opinion from around the internet. If you don't see your viewpoint represented, contact the curator at bubble@buzzfeed.com. Click here for more on Outside Your Bubble.