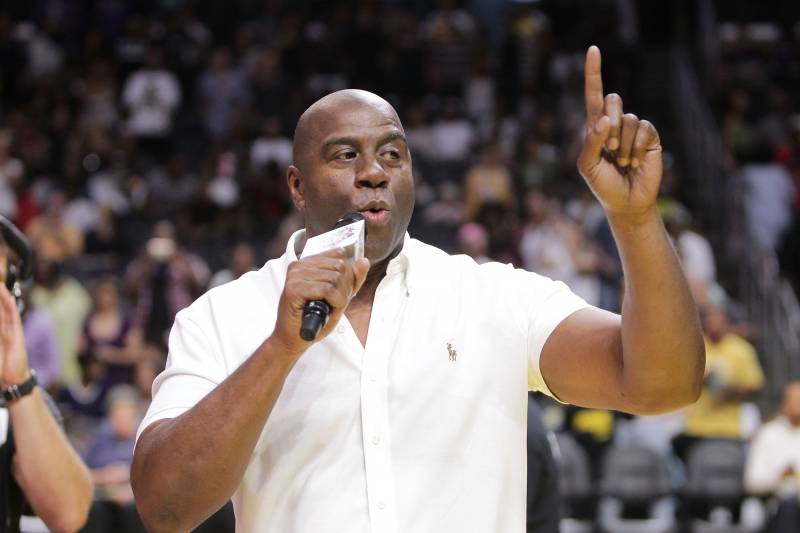 Leon Bennett/Getty Images
Joseph ZuckerFeatured ColumnistFebruary 13, 2017
Los Angeles Lakers legend Magic Johnson told TMZ Sports on Monday he will no longer frequent hotels owned by President Donald Trump.
Voicing his criticism about Trump's executive order on immigration, Johnson said in January the president "can't just be a dictator," per TMZ Sports. The Hall of Famer is one of a handful of sports stars who have made their opposition to Trump known.
After Under Armour CEO Kevin Plank called Trump "an asset," Golden State Warriors guard Stephen Curry, who has an endorsement contract with Under Armour, said, "I agree with that description, if you remove the 'et' from asset," per the Bay Area News Group's Marcus Thompson II.
Six members of the New England Patriots have said they won't visit the White House to celebrate the team's Super Bowl LI win over the Atlanta Falcons.
Like Johnson, LeBron James and some members of the Cleveland Cavaliersdeclined to stay at Trump SoHo after the team made arrangements for the players to stay at the hotel during a December road trip in New York City.
Shortly thereafter, the Lakers switched hotels from the Trump SoHo ahead of a matchup with the Brooklyn Nets. The Los Angeles Times' Tania Ganguli reported, though, the team's decision was made to address possible security concerns and not a reaction to Trump's political views.