LONZO BALL DECLARES FOR 2017 NBA DRAFT AFTER SWEET 16 LOSS TO KENTUCKY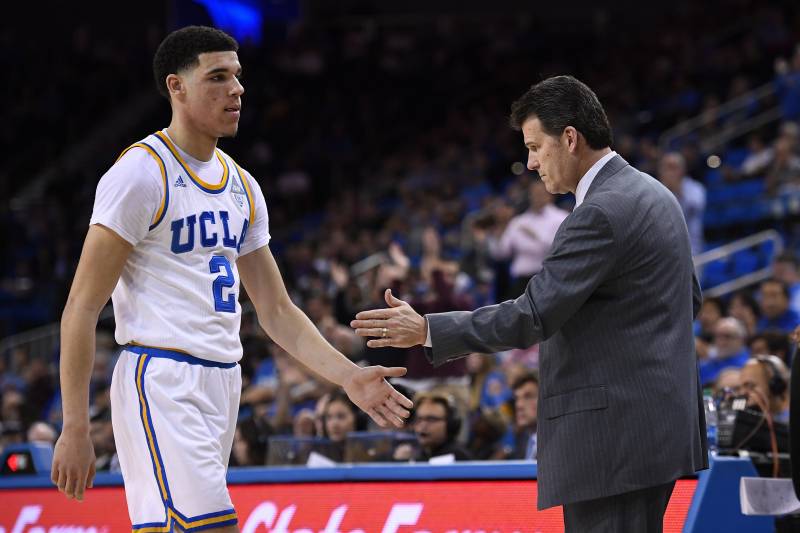 Mark J. Terrill/Associated Press
Tyler ConwayFeatured ColumnistMarch 24, 2017
Lonzo Ball didn't need time to think about his future.
The UCLA guard announced his intention to enter the 2017 NBA draft immediately after the team's Sweet 16 loss to Kentucky on Friday, per Ben Bolch of the Los Angeles Times.
"That was my final game for UCLA," he said, per L. Jason Smith of 92.9 FM ESPN Radio. "I appreciate the fans."
He played just one season for the Bruins but is expected to be a top-five pick in the upcoming draft.
A 6'6″ point guard, Ball posted one of the nation's best all-around seasons. He averaged 14.7 points, an NCAA-high 7.6 assists and 6.1 rebounds during the regular season, helping lead the Bruins to a No. 3 seed in the NCAA tournament.
His ascent continued on the March stage, as Ball led the squad to the Sweet 16. However, he couldn't handle fellow prospect De'Aaron Fox and the Wildcats and lost 86-75.
That Ball would be forgoing his final three seasons is perhaps the worst-kept secret in college basketball. Lonzo's father, LaVar Ball, has been making the media rounds for months acting essentially as his son's mouthpiece. LaVar has already launched the Big Baller Brand clothing line and was public about his desire for Lonzo to play in a big market—specifically Los Angeles.
"All I said was that my boy is going to play for the Lakers, and I'm going to speak it into existence," LaVar Ball told ESPN. "I want him to be a Laker, but I wasn't saying he's only going to play for the Lakers."
LaVar Ball has also been at the forefront of lofty comparisons to his son, putting him in the same sentence as Stephen Curry and Michael Jordan. At multiple points, he said Lonzo would be better than Curry—the reigning two-time NBA MVP.
"Steph Curry's pretty good," LaVar Ball told TMZ Sports. "My son is young, he's got time to grow. And you only consider him good because he's won a couple championships. … He makes some shots at the right time. But he's not as young as my boy. You not gonna be able to say this until my boy finishes playing his career; then they gon' look back and say, 'Man, how did LaVar know all this?'"