Jim and Pam were supposed to be an interracial couple.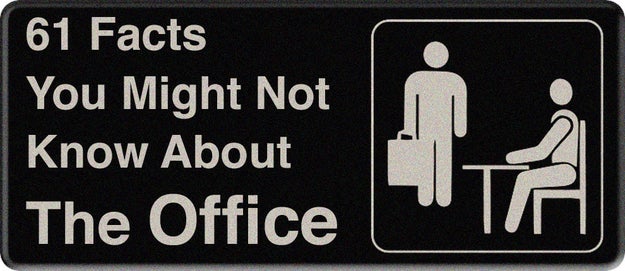 NBC
1. John Krasinski shot the footage of Scranton for the opening credits after he found out he was cast as Jim. He visited Scranton for research and interviewed employees at actual paper companies.
2. The theme song plays during the end credits only after Season 4 begins. All previous seasons have no music during the end credits.
3. Steve Carell had seriously active sweat glands, so the temperature on set had to be kept at a cold 64°F, until they eventually invested in space heaters.
4. Many of the cast's characteristics were intentionally incorporated into the character's personalities throughout the series.
5. Apparently Creed Bratton is the actor most similar to his character, Creed Bratton.
6. In "Money", when Jim is consoling a crying Dwight on the staircase, the moment where Dwight reaches out to Jim before realising he's gone was not scripted but was coordinated by the director.
7. Phyllis Smith was originally a casting associate for the show but the producers liked her so much they created the role of Phyllis Vance for her.
8. Smith is 11 years older than Steve Carell, despite many references indicating their characters are supposed to be the same age.
9. Carell is married to actor Nancy Ellen Carell, who played Carol Stills in several episodes of the show.
10. Jim and Pam's first kiss was John Krasinski's first ever onscreen kiss, about which he may have lied to Jenna Fischer when she asked if he'd ever done it before.
11. The crew built a replica of a rest stop for Jim and Pam's proposal scene. The shot ended up costing $250,000, which the producer described as "the most expensive and elaborate shot we've ever done, but it's also sort of the highlight of five years of storytelling"
12. Pam's lactation consultant after she gives birth in "The Delivery" is actually Fischer's real-life husband, Lee Kirk.
---