All the more reason to support them on Small Business Saturday!
Below are some of our favorite examples of how independent bookstores are so much more than stores — how they're community centers, cultural hubs, and home away from home — and what many are offering for Small Business Saturday.
They support local artists.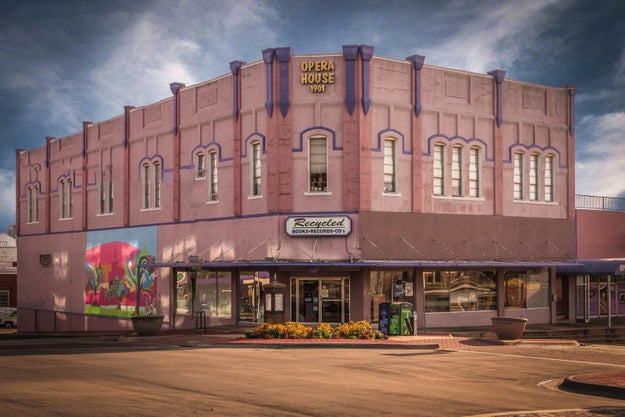 "Recycled Books in Denton, Texas is an old, converted opera house that's been painted pink! It encompasses the weird, chill, independent vibe that Denton has. Besides having an amazing selection of used books, records, and movies, they also highlight local artists. The building has so many nooks and crannies, it's like a maze you love getting lost in!" —m4a24707a7
Visit Denton Books Nov. 24-26 for 20% off everything.
Jim Allen / Via Facebook: pg
Their staff are more than happy to talk literature with you.
"The store that I used to go to growing up (The Raven in Lawrence, KS) was great because it was small so I never got overwhelmed, staffed by friendly people who genuinely loved and knew about literature, and also they had sweet cats that were always up for a good head scratch. I don't live there anymore unfortunately, but it was a great place!" —fredzesty
Visit The Raven on Sat. 11/25 for sales, free refreshments, new merch, signings, and free tote bags for the first ten people to spend $100 or more.
Their inventories have a way of getting (pleasantly) overwhelming.
"I think my favorite is The Relay Bookhouse. They have floor-to-ceiling stacks of books, with more piled on the floor that won't fit on the shelves. It winds everywhere. There is nothing like the feeling of being completely surrounded in books. I can get lost in there for days.
Not only that, the staff are regular, personable, and cannot do enough for you. When I once couldn't find a book I wanted, they crawled on the floor and dug through stacks with me, since the inventory said they had it in the store. When we couldn't find it, they ordered it for me, then reordered a new copy when the original order arrived damaged. I adore stopping in when I'm downtown, and I always find a unique surprise hidden in the stacks." —heathers469870715
Visit Relay Bookhouse now through Sun. 11/26 for 10% off all new books and 15% off all used books.
They aren't afraid to get political.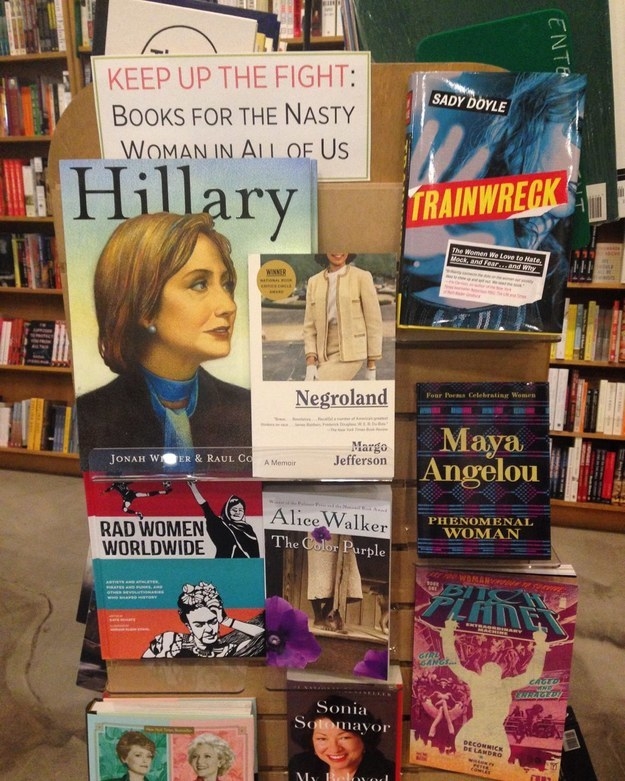 "WORD Bookstore in Jersey City doesn't shy away from the political climate — they embrace it and help us get through it." —amandar4be2efc7a
Visit WORD Books in Jersey City or Brooklyn on Saturday Nov. 25 for raffles,
giveaway, readings, trivia, and more.
They organize book clubs that will both entertain and challenge.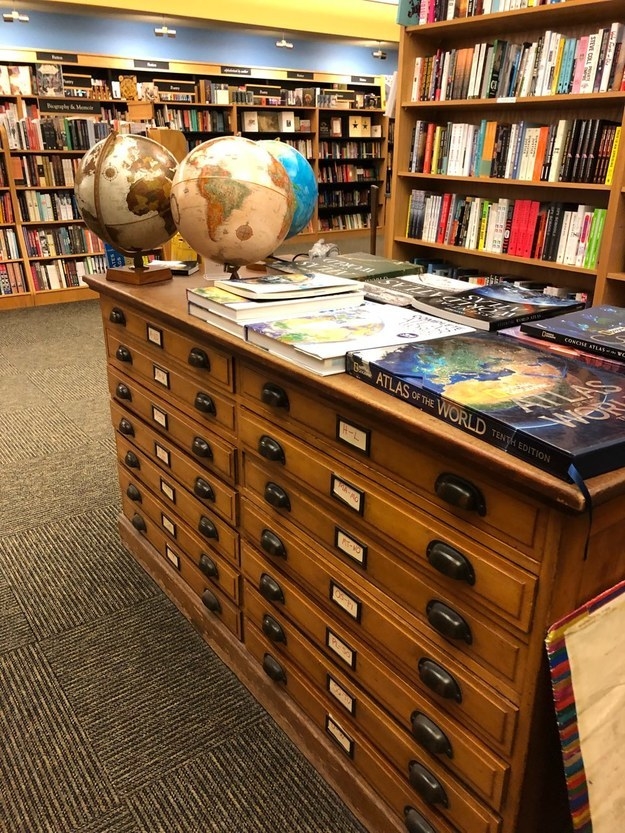 "I've lived in New York and London but nothing compares to my hometown bookstore, Gibson's Bookstore in Concord New Hampshire. They are incredibly well stocked for a small town bookstore, and the staff is always friendly and curious about what you're reading. I'm also part of their book club. It is wonderful and more academically challenging than other book clubs I've been a part of. Here's a picture of their map section, and it's worth noting all of those drawers are full of maps. How could you not love such a place?" —jos411de08d2
Visit Gibson's Bookstore on Sat. 11/25 for "literary treats" and baked goods throughout the store.
They foster and encourage imagination.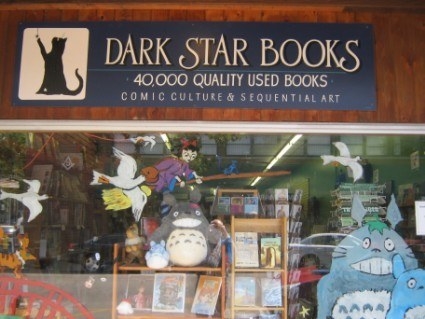 "Dark Star Books and Comics in my hometown of Yellow Springs, Ohio. You can find new and used books, buy and sell books, pet the resident cat, look for anime books. You can find Dungeons & Dragons dice and figurines, coffee mugs and bookmarks. You can pick a book to read on a comfy couch or chair and totally lose yourself in the pages of imagination!" —lajaaaam
You can feel the history within the pages of their used and antique books.
"Bearly Read Books in Sudbury, MA, is right down the street from my house. The creaky wood floor and floor-to-ceiling collection create a magical atmosphere, and after hours of looking through shelves, there is always more to find. Sitting on the floor flipping through medical texts from the 1800's has never felt more special!" —thatsuburbangirl
They're invested in giving their customers the best possible shopping experience.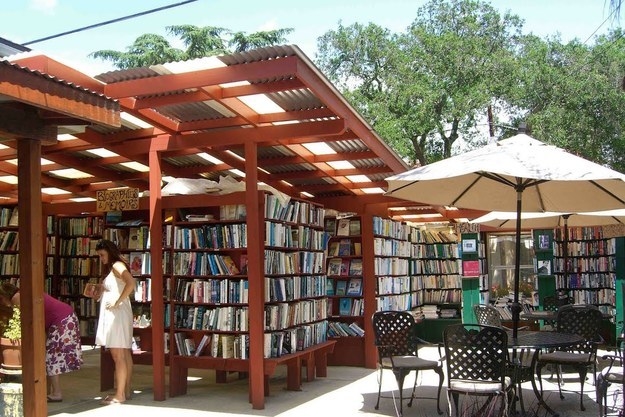 "Bart's Books in Ojai, CA, uses the honor system when it's closed. It's outdoors so that no matter what time of day it is, people can still enjoy the feel and thrill of buying a book while enjoying the outdoors, and I think that's so special." —ashkeithsmom
Sometimes it's more than a shopping experience — it's a genuine life experience.
"The Book Barn is one of the best book stores I've ever experienced. They have four locations in Niantic, CT, and they have been around for nearly 30 years! They are a used book store, and will buy your books on the spot for store credit (or check if you prefer).
Their main location is a series of outbuildings, sheds, and an actual barn that are great to wander to and through on your hunt for the perfect book. The buildings all have fun names — Ellis Island, Hades, Last Page — and the site has penned goats to visit, a playground, beautiful garden areas, outdoor games and a nice picnic area. They even have a scavenger hunt for the many cats that live there. It's definitely a place you could spend all day at, and go back again and again." —elizabethabessette
They cater to their communities.
"I used to work for Politics and Prose and it was so cool to see how we ordered different books for the different neighborhoods in DC. It was also really cool to support local authors and to get the younger kids excited about reading." —nicolem4bf05a59e
"There is just so much going on there. I rarely leave without buying something unexpected. I drive 50 miles just to hear famous authors talk about their books. There is no other place like it." —Jackie Belt
Visit Politics and Prose locations on Sat. 11/25 for a reading with YA novelist Jason Reynolds, access to signed book inventories, and a free tote bag for purchases of $30 and up
They can offer extensive insight into that community's history.
"My favorite bookstore, The Book Loft, is in a pretty historically rich downtown area (Fernandina Beach/Amelia Island if you're familiar!) and the entire second floor of this beautiful little bookstore is devoted to books about the area's history and the pirates who played a part in it. I so much appreciate that they pay homage to it!" —maceybug3162
"Our local bookstore is non-profit and supports free literacy programs — ESL, tutoring for children and adults, GED prep and more. Not only can I find great, rare books cheap, I know that the money I spend there helps others in the community." —stephaniev23
They're resilient.
"My local new and used bookstore suffered a pretty intense fire last year. For an industry already experiencing trying times, we all kind of thought that would be the end of the Book Nook in Monroe, MI. Instead, they repaired and rebuilt, with grace, humor, and just the right amount of sass to get the job done. 308 days of closure but free at last!" —mollyb4d45beb25
Honestly, the bookseller/customer relationship can be a truly beautiful thing.
"I work at Porter Square Books in Cambridge, MA. We LOVE our customers and try to learn about them and what they like. We offer crazy personalized help finding your perfect book or presents for friends. Plus, we make sure that authors are fairly compensated for their work, meaning that they can afford to keep writing stories you love." —sydneyd46c3ff1ba
Visit Porter Square Books on Sat. 11/25 for special guest booksellers (Cambridge- area authors), 50% off Indies First audiobooks, and sweepstakes.
"My local indie store has definitely changed my life. I started attending book signings there when I was in the darkest period of my life with my depression. The local authors and writers from my community have been so unbelievably kind to me and have even helped me with my own writing. I feel like I actually have a place in my writing community now. I've forged so many relationships that have helped me grow as a writer and as a person, and I have several dear friendships that began at this bookstore. Every time I walk in, the staff always recognizes me and asks me how I'm doing. If it weren't for this place, I don't think I'd be pursuing my dream of becoming an author." —hquinn31
They make it easy to spend hours and hours there.
"The Reading Room in Watertown, NY. There's a small area to sit and read and make yourself some free coffee. The owner has a huge local author selection and does author book signings on an almost daily basis and she also does a lot of activities with children. My nephew loves to go in and play with the train table while I browse. The owner orders books for her customers if there's a book they want but isn't available in store and the order is usually there within a week." —deannas4896ca468
Visit The Reading Room on Sat. 11/25 for 10% off storewide.
They host exciting events — sometimes even live music.
"Taylor Books in Charleston, WV, is a beloved city treasure. It has a local art gallery in one section, a bookstore in the middle section, and a cafe in the third section that hosts local musical acts. The lady that owns it is from England and lives above the bookstore. On the roof she has pet chickens and she sells the fresh eggs in the cafe." —annalee10
Visit Taylor Books on Sat. 11/25 for a ~surprise~ treat, which will be announced on their Facebook on Friday.
They can function as meet-ups for people with shared interests.
"Mine is actually our local comic book store, Black Ice Comics in Houghton, MI. The decor is awesome. The woman who owns it is knowledgeable and great to talk to. She always has good recommendations, and hosts lots of fun community events to go to. The selection is great, and anything they don't have they can get for you. It's my favorite place to visit." —Samantha Hoover
Visit Black Ice Comics on Fri. 11/24 for various sales throughout the shop, and raffle entries with purchase.
They connect readers with their favorite authors, both the locals and the big-names.
"What don't I love about my local bookstore? (Answer: nothing.) It's called Horizon Books in Traverse City, MI. I've been going there for well over 20 years now, and I'm as happy there at the age of 34 that I was at 12 and 22.
I still go there at least two mornings a week before work to read in a quiet space and drink their delicious coffee. I love that it's remained virtually the same since I was a teen, making it feel so homey. I love walking in and seeing the big display of local authors and books. I love that they do book signings not just from local authors, but big name authors we wouldn't normally get to meet in my area otherwise. It's just a great, fun place that's been in business since 1961, and I hope they stay in business forever." —mrsh810
Visit Horizon Books in Traverse City 11/24-11/26 for free discount club membership with $40 purchase, or visit Horizon Books in Cadillac on Sat. 11/25 to see Santa and enjoy the Ugly Sweater Scavenger Hunt.
The cats!!!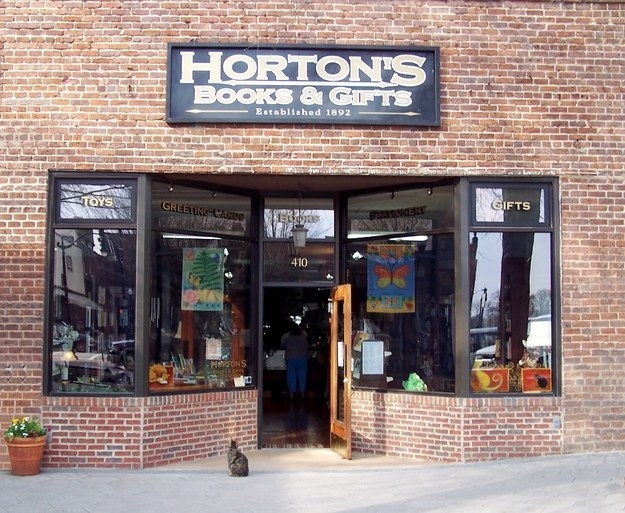 "Horton's Books & Gifts is the oldest bookstore in the state of Georgia. It was established in 1892, and they still have the original cash register! The best part is they have three cats: Dante, Mayah (pictured,) and Poe to help guest pick out books." —katieb435e59368
Visit Horton's Books & Gifts on Sat. 11/25 for free tote bag with purchase of $20, free gift or paperback book with purchase of $40, and 10% off total purchase for Buy a Books for Toys for Tots.
And they reward loyal patrons.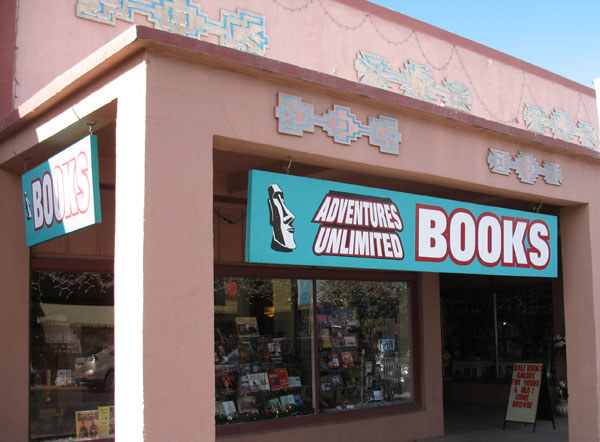 "I adore ours: Adventures Unlimited in Cottonwood, AZ. Such a cool place, with bestsellers alongside amazing obscure treasures. They do special orders, and they have a reward program with a card you get stamped for every $10 you spend — get ten stamps and get ten bucks off your next purchase with no minimum. The people there are awesome and if you're a regular, like my daughter and me, they go way above and beyond for you." —Desiree Valenzuela
Sometimes, they're simply a home away from home.
"Kaboom Books in Houston is my favorite local bookstore. The owners are charming and bring their puppies in to roam around, and the sheer density of their collection is astounding. You walk in and just feel like you're home." —Amber Adams